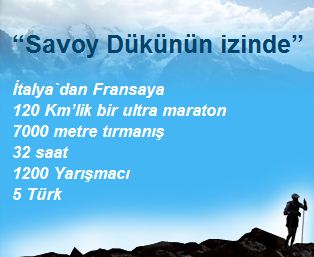 English translation below…
Ultra dağ maratonlarını tanıtmayı amaçlayan Online Video Belgeselimiz adım adım yayınlandı. Keyifle izlemeniz ve paylaşmanız dileğimle.
"Acele etsen bile gözün açık olsun. Çünkü yolda birçok engelle karşılaşabilirsin." Benjamin Franklin.
Dünyanın en önemli ultra maratonlarindan biri. Dört önemli yarışın koşulduğu bir doğa sporu festivali. The North Face Ultra Trail du Mont Blanc…
More than a race, the North Face Ultra Trail du Mont Blanc is a huge festival. We are sharing our joy through the TDS course, as well as the insights of the organisation.
"Beware even you are in a hurry.. You might face other obstacles along your way". Benjamin Franklin
This is one of the most important ultra-marathons in the world. It is an epic event contains four different courses and fulfills the dreams of racers all around the world. The North Face Ultra Trail du Mont Blanc. UTMB, is said to be the summer olypics of the ultra trails which starts from Italy, passes Switzerland and ends in France passing three nation`s lands… In this 7 minute episode we would be presenting you the UTMB races, technical aspects and details as well as tips about registering these races.
INTRO Episode

Episode I

Yarışın bol resimli hikayelerini okumak için tıklayınız. Caner'in gözünden
Caner'e soru sormak ve bu yarış ve ultra marathon hakkında bilgi almak için Twitter adresini kullanabilirsiniz.  @devrimcaner 

Doğa sporlari ile ilgilenenlerin hayallerini süsleyen, dünyanın en önemli dağ maratonu organizasyonu. Ultra maratonların olimpiyatları sayılan bu organizasyon üç ülkenin topraklarında gerçekleşiyor. İtalya'da başlayan yarışlar İsviçre üzerinden geçerek Fransa'da sona eriyor  Bu bölümümüzde sizlere UTMB yarışlarını, katılım koşullarını, yarışların teknik bilgilerini anlatıyoruz. Bir sonraki bölümümüzde Türk yarışmacıları ve TDS yarışı sırasında yaşananları sizlere sunmaya başlayacağız…
In the upcoming episode next week, we will be introducing you the Turkish team members whom have participated in the TDS course and coverage from the race from our eyes. Please click for the story of TDS by Caner Odabasoglu
You can ask anything about this race through his twitter account @devrimcaner 
Episode II-A

Episode IIB

Savoy Dükünün İzinde (TDS) parkuruna 2011 yılında 5 Türk katıldı: Caner Odabaşoğlu, Emre Tok, Bakiye Duran, Fırat Kara, Faruk Kar'dan oluşan 120 kilometrelik parkuru 7000 metre tırmanarak aştılar. Kimi uzun zamandır düzenli spor yapan, kimi sadece 3-4 senedir koşan ama hepsi doğada olmayı, sınırlarını keşfetmeyi ve macerayı seven 5 kişi. İş ve ailelerinden kalan zamanda, profesyonel ruhla spor yapmaya çalışanlar. Bu bölümde UTMBye gelirken düşündüklerine, burada yaşadıklarına ve sonuçlarına bakacağız.
This year five Turkish racers represented their country in Ultra Trail du Mont Blanc TDS category. Those who succeded the 120km course with more than 7000 meters of altitude gain are; Caner Odabaşoğlu, Emre Tok, Bakiye Duran, Fırat Kara and Faruk Kar. Some have been exercising for years some only started running a couple of year ago.But all five of them are ambitious to be in the nature, searching for their limits and seeking for the ultimate adventure. They all have families and professional jobs, along with a high sports spirit. We will get their insights, learn their experiences and find out their brief results in this episode.
Episode III – Spirite of Chamonix

The North Face Ultra Trail du Mont Blanc sadece bir yarışma değil. 3 ülke ve 15 bölgenin ortak düzenlediği ve yaşadığı dev bir organizasyon. 5.500 yarışçı, onbinlerce izleyici, büyük tanıtım ve reklam etkisi, ekonomiye gelen canlanma… Bütün bunlar UTMB'den satır başları. Dağ turizminin Mekke'si Chamonix, bu organizasyon ile kendine bir altın bilezik daha takmış. Gelin bu bölümde yarışın ekonomik ve sosyal boyutlarına bakalım.
The Nort Face UTMB is not only a race. It's a huge event among 3 countries and 15 communities. Some headlines are: 5.500 participants, tens of thousands spectators, massive PR and marketing effect, pumping economics. Being the Mecca of mountain tourism, Chamonix still moves forward for an other golden braclet with this event. We insight the economics and social aspects of the UTMB in this episode.
Episode IV – The Start
Artik başlangıç noktasındayız…Heyecanımız dorukta… Bir yıldır emek verdiğimiz yarışın başlayacağı nokta olan Courmayeur kasabasındayız. Türk bayrağımızı  gururla sallayarak, bu yarışta 5 Türk'ün de olduğunuz göstererek start alanına  geliyoruz. Nefeslerin tutulduğu bir 40 dakika bekleyiş. Sohbet ve birbirine şans  dileme eşliğinde geçen heyecanlı dakikalar. Çıkacağımız yolculuk kimimiz için 21  kimimiz için 30 saatin üstünde olacak. Ama tek amacımız var. O da yarışı bitirip  tekrar Chamonix'de buluşmak…Yarış esnasında özel taşınabilir kafa  kameralarımız ve refakatçi kameramanımızın çektiği çok özel görüntüler ile Savoy
Dükünün izinde beş Türk sizinle…
We are waiting in the start line now. All of us are very nervous but full of joy. 5 Turkish team members are in Courmayeur and waiving their proud flag that we are here in this race… Last 40 minutes before the count down is spent by hugging each other and wishing of luck. Some of us will be in the trail for 21 hours and some of us will be may be more than 30.  Who knows. But we all have the same aim which is to finish healty and reach Chamonix; the finish line. In this episode you will be viewing very special footage from our head Cameras and our Crew members kamera in the checkpoints. Five Turks starts following the traces of Duce of Savoie…

Episode V – The Adventure Begins
Ilk uzun tırmanıştan sonra geceye kadar tam 60km yol alıyoruz bu bölümde. Caner ve Emre hep beraber ilerliyoruz. Bazen Caner Emreden 10-20 dakika önde gidiyor ama kontrol noktalarında buluşuyoruz. Kontrol noktalarındaki an be an yaşananlar, yokuşlar ve yarışın kolay yüzü olan gündüz geçişi güzel hava şartları ile sizlerinin beğeninize sunuyoruz bu bölümümüzde. Hava kararana kadar 15 saatten fazla süre geçirdiğimiz bu bölüm yarışta enerjimizi kontrol altında tuttuğumuz kendimizi frenlediğimiz ve doğu tempo ile yer almaya çalıştığımız süreç…
After the first climb, you will see that we will be moving almost 60kms till to the midnight section. We are running together as Caner and Emre in this journey. Sometimes Caner is moving a little bir faster than Emre but they meet in the check points. The situation on checkpoints, hills and the easy part of the race which is with sun light and good weather is presented in this Episode. You will be watching mostly how we control our energy, move with the right speed and optimize our strategies in this long endurance event…

Episode VI – The Great Adventure
Yarışın uzun gecesinin getirdikleri ve ertesi sabah… 20 saat sonra ekibimiz ne halde? Artık kalabalık yok, heyecan yerini azime bıraktı. Yarışmanın son saatlerinde, limitlerini zorlayan Bakiye, Emre ve Caner Chamonix'deki bitiş çizgisine ulaşmaya çalışıyorlar. Fiziksel mücadele kadar zihinlerinde neler yaşadıklarını hem dış kameralarla, hem de Caner'in parkur içinde çektikleriyle beraberce yaşıyoruz…y
Dükünün izinde beş Türk sizinle…
The long night inside the race and the next morning. After 20 hours, the team is struggling to finish. No more spectators… Joy left itself to pain, determination and willing to finish only… Bakiye, Caner and Emre are using their limits on the last hours of this race to reach the finish line at Chamonix. Despite the physical endurance of their bodies, this episode shows what happens inside their heads in terms of mental endurance with the help of professional footage and Caner`s head camera footage on the trails.

Episode VII – The UTMB
Ultra Trail du Mont Blanc, 3 ülke sınırlarında 166km koşmayı ve 9500 metre tırmanmayı gerektiren, ortalama 1500metre rakımda gerçekleşen zorlu bir koşu yarışı. Bu sene zorlu hava koşulları sebebiyle katılan her iki kişiden ancak biri bitirebildi. Dünyanın en iyi ultra koşucuları rekabet etmeye geldi. 2300 katılımcı arasında Türkiye'den iki kardeş, Sertan ve Serkan Girgin de var. İnsanın sınırlarını fiziken ve manen zorlayan bu mücadelenin kısa hikayesini bizi tekrar yarışa sokacak görüntülerle paylaşıyoruz.

ENGLISH: Ultra Trail du Mont Blanc, a running race along the  166K-long (100miles) trails in 3 countries with 9500meters of elevation gain. Running at average 1500 meters altitute is really tough. This year many of world's elite ultra runners lined up to race each other, but half of the starters could make to the finish. Among 2300 participant, there are two Turkish twin brothers: Serkan and Sertan Girgin. This brief story is about the challange of the body and soul, and hope you will be running along the course in the episode.

Episode VIII – The Preparations / Antrenman ve Hazırlık
Ultra Trail du Mont Blanc yarışına hazırlanırken bazen günde 50 km'lere varan antreman yapmak, bazen kırıcı antremanlar sonrası sakatlanmak, bunu tedavi etmeyi öğrenmek, mental olarak kafanızı bu yarışa hazırlamak ve vücudunuzu tanımak ve acıya dayanıklı hale getirmek çok önemli. Caner ve Emre bu bölümde Belgrad ormanı, Londra Thames nehri kenarı ve Richmond park manzaları içerisinde bu yarışa hazırlanmak isteyenlere nasıl bir hayat dengesi ve antreman sistemi kurmaları gerektiğini anlatıyor ve deneyimlerini paylaşıyorlar.

ENGLISH: You need to traın more than 50 kms a day, get injured after these, learn to taper, be prepared mentally, identify your body and make it over come pain after certain kilometeres… In this episode Caner and Emre will be sharing their experiences about how to train, balance their work and private lifes and build a training plan by the magficient views of Belgrado forest in Istanbul, Turkey and Thames path and Richmond Park in London, UK

Bu online belgesel izlesene.com'un katkılarıyla özverili bir ekibin gönülden çalışmasıyla ortaya çıkmıştır: Murat Yazan, Emir Mutluer, Onur Uzbaşaran, Hande Odabaşoğlu, Fırat Mançuhan, Mustafa Gürler, Melek Dudu, Sinan Bayar, Nice Uysal, Kutlu Haliloğlu, Emre Tok ve ben Caner Odabaşoğlu ultra maratonda harcadığımızdan çok daha fazla enerji ve içtiğimizden çok daha fazla kahve ile bu projeyi tamamladık.
Yarışın bol resimli hikayelerini okumak için tıklayınız. Caner'in gözünden
Caner'e soru sormak ve bu yarış ve ultra marathon hakkında bilgi almak için Twitter adresini kullanabilirsiniz.  @devrimcaner 


This online documentary was supported by izlesene.com and realized by a hearty team: Murat Yazan, Emir Mutluer, Onur Uzbaşaran, Hande Odabaşoğlu, Fırat Mançuhan, Mustafa Gürler, Melek Dudu, Sinan Bayar, Nice Uysal, Kutlu Haliloğlu, Emre Tok and me Caner Odabaşoğlu. During the production; We suffered more enery than the race it self and consumed more coffee than we did during the course!
Please click for the story and race report of TDS by Caner Odabasoglu
You can ask anything about this race through his twitter account @devrimcaner